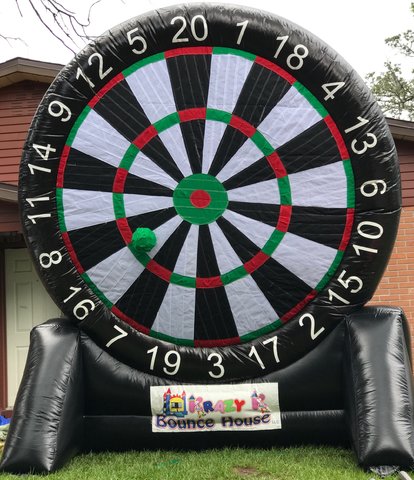 Kick Dart
What are Kick Darts?
Kick Darts is a brand new game that's enjoyed by people of every age. The air-inflated dartboard is covered with Velcro; players will then aim the softballs at the board. The sport is then scored the same as normal darts, or you could decide to take part for fun and not keep score. By merging two games together, this sport targets lovers of both activities and brings them together to perform a really entertaining activity. One of the biggest advantages of this game is that it can be played by anyone regardless of footballing ability and skill. Since the rules can be made by you, there is no limit on how far away the ball can be kicked. If the players involved are slightly less talented with a football, the ball can be kicked from up close to the board to ensure that the game is fair for everyone. However, the game does not need to be competitive. Quite commonly, the darts are bought to allow a group of friends to have a kickabout.
Foot Darts Equipment
1 Giant Dart Board used to play both Archer Darts and Foot Darts
1 Blower to keep the board inflated
4 Fuzzy Soccer Balls (color vary and can't be guaranteed).